While in the Admin Section, click on the "Subscription" tab.

Here you can see the status, industry, plan, and price associated with your subscription.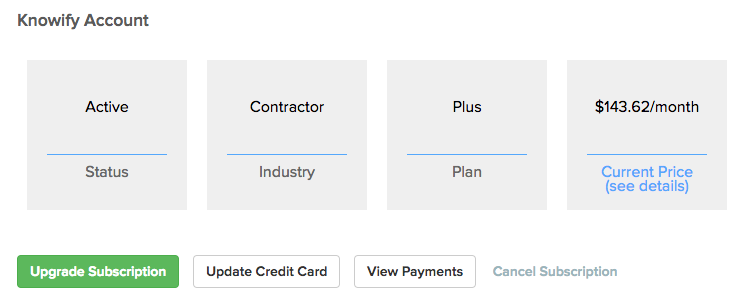 To get more information on what goes into your monthly bill, press See Details under the Current Price box. This will bring up a sheet that shows how your Knowify payment is calculated: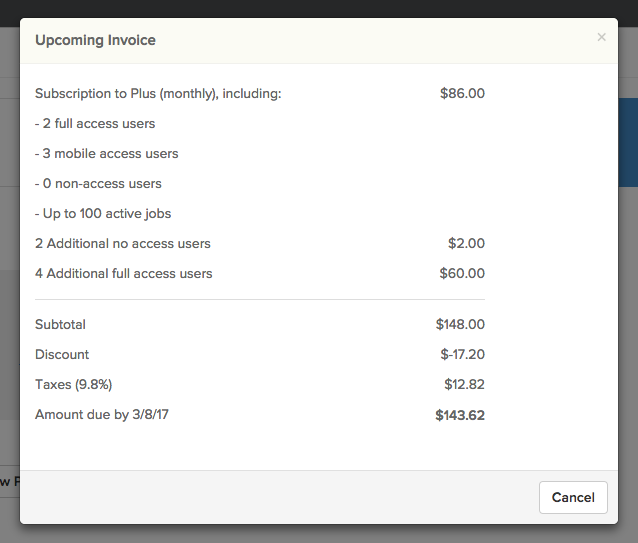 You can learn more about Knowify pricing by Clicking Here. If you'd like to change your pricing plan at any point, you can e-mail us at support@knowify.com with your request. (This includes switching from monthly to yearly pricing)
The Upgrade Subscription tab will also show your payment details and also allow you to input a discount code if supplied one.
The Update Credit Card button will allow you to change the card that is charged for your subscription payment.
View Payments will be where you can see past payments made on your subscription. Statements will also be emailed to the email address you initially signed up with. Please contact support@knowify.com if you need this changed.
To end your subscription, press the Cancel Subscription button and it will show you the necessary steps to end payments. Your data will be temporarily saved on our servers in case you want to start again. Please contact support@knowify.com if you'd like to re-activate your account!