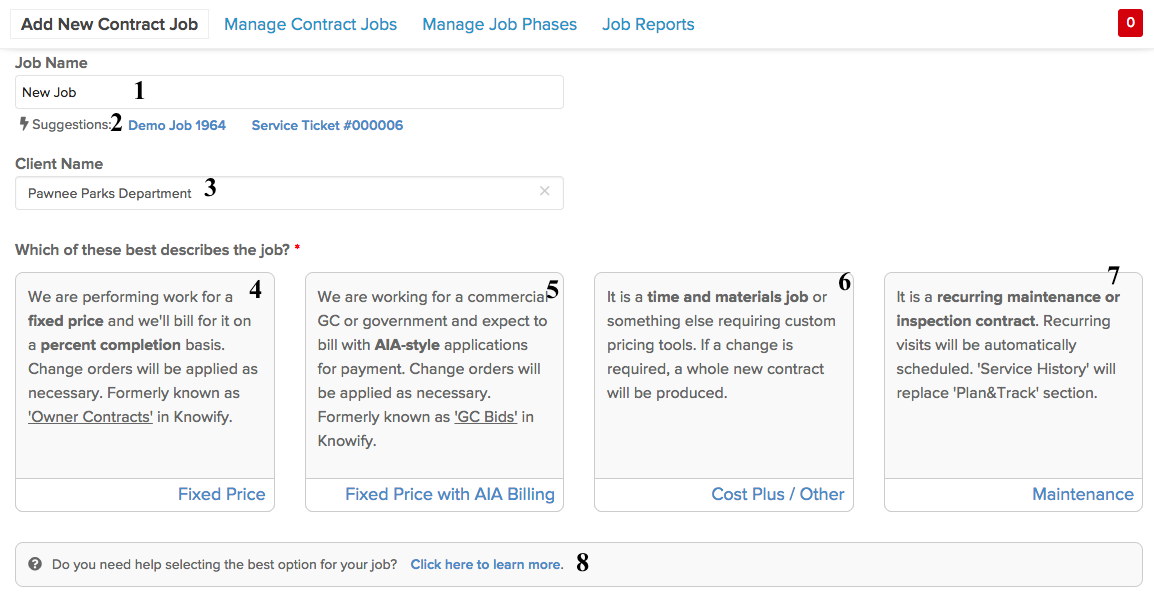 Set a name for this new job.
Suggestions for job names, based on how you've named some of your old jobs.
Select the client for this job.
Choose a contract type. Each of these contract types come with a description to help you choose the best one. This one is a fixed price contract.
For government and commercial work, choose fixed price with AIA billing. AIA stands for the American Institute of Architects, and is a type of invoice that is required for these types of jobs.
Cost Plus contracts and those that charge for labor, materials, and subcontractors costs directly, but include a markup percentage to ensure a profit.
Maintenance contracts are a collection of service jobs.
Click the link to receive help on which contract style is best for you.

The job costing style indicates the process in which you will create this bid. In Simple mode, you will create the bid first knowing the prices you will charge ahead of time, then track labor and material costs all in one place.
Advanced mode creates the bid first, knowing what you will charge ahead of calculating your costs, but tracks your labor and material costs at the line item level, reflected as job phases.
Professional mode allows you to cost out your job ahead of time. Knowing the estimated cost of your labor, materials, and subcontractors, you can then guarantee the price you charge will provide a profit.
Tags are used as a way to find jobs quicker in a search. Assign a tag for this job to have it stand out in the search from other, similar jobs.
Set a due date for the bid.
Set a job color. Job colors are used to stand out in our scheduling platform. You can use specific colors for your own organizational strategy, or you can let Knowify select a color for you.
Optionally include the sales lead on this project.
Optionally set a project manager for this project.
Include the job address. This will be helpful for guiding your workers to the site, and delivering purchases to the correct address.
Save this job and continue to create the bid.
Go back and cancel this bid.