In the User's section, you can add three different types of user in your account:
Users with Access to Knowify
Users with Mobile Access to Knowify Only (this includes subcontractors or 1099 vendors)
Users with No Access to Knowify
It is important to differentiate between the different types of users in your accounts when delegating responsibilities and privileges within your account. This chart provides some examples of access given to the different types of user accounts in Knowify:
| Users with Access | Users with Mobile Access Only | Users with NO Access |
| --- | --- | --- |
| Create purchase orders and manage committed costs | Log Time | Can be used to enter time manually against a job with a predetermined rate |
| Manage Jobs | *Check-In/Out Other Employees | |
| Create new projects | View Job Details | |
| Adjust and Setup Scheduling | Communicate Internally | |
| Invoicing and recording payments | Upload Purchases | |
| Creating/Reconciling Bills | | |
| Manually enter & approve time | | |
| Build & Send proposals for digital e-signatures | | |
*Must be given Foreman Access in the users section
Users with Full-access will have multiple permission sets that you can enable, so that you can control what they are and are not able to access. Users with mobile-only access will only have the permission to log time for themselves and/or to log time for other employees (Foreman Access).
: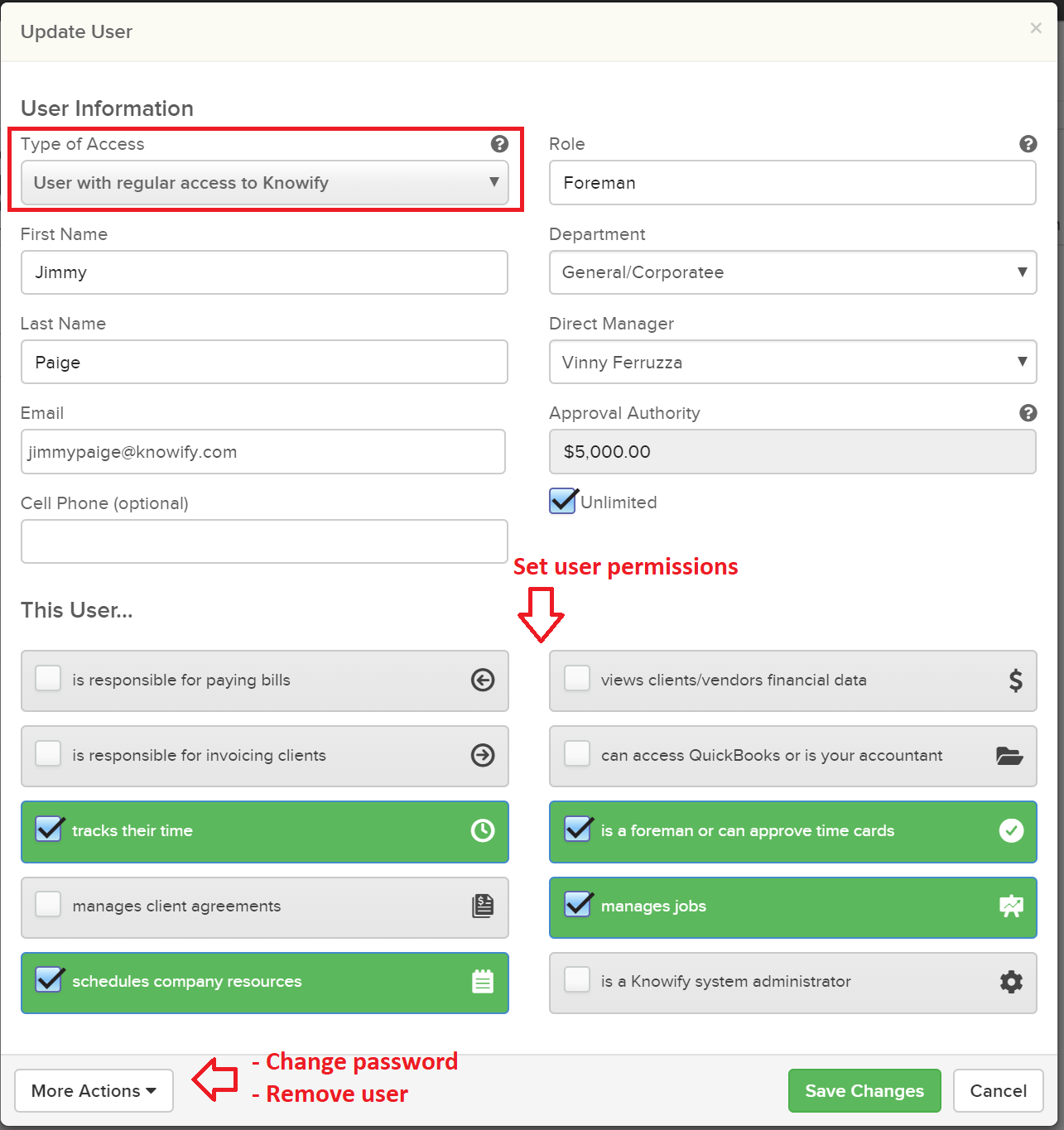 The Approval Authority is used to set a limit on the maximum total amount a user can submit a purchase for without review. If the purchases exceeds the approval authority (or if you set the approval authority to $0), then in order for it to be job costed/finalized, the direct manager, set above the approval authority, will need to approve the purchase.
Here is some more information about some of the different access points:
Is responsible for paying bills: This will allow the user to enter the bills section, and manage outstanding expenses
Is responsible for invoicing clients: This will allow the user to access the invoices section, and manage any outstanding invoices
Tracks their time: This will allow the user to enter their hours and/or check in and out of jobs using the mobile application
Manages Client Agreements: This will allow the user to access the contract section of any job, to view contract value, invoiced value, and to manage change orders
Schedules Company Resources: This will allow the user to access the Scheduling section, and manage the schedule for other employees and resources
Views Clients/Vendors financial data: This will allow the user to view financial information and is required for other access points such as access to bills and invoices
Can Access Quickbooks or is Your Accountant: This will allow the user to access the accountant section, view a transactions log of all data synced between Knowify and Quickbooks, and allows them to set the default accounts in Quickbooks for Knowify to sync information to.
Is a Foreman or Can Approve Time-cards: Allows the user to enter time for other employees, including through the mobile application
Manages Jobs: Allows the user to access jobs within the contract jobs and service jobs sections. This is required for other access points such as "manage clients agreements" and "schedules company resources"
Is a Knowify System Administrator: Allows the user to access the admin section including account settings,  user's & rates, and access to the subscription tab
You can also view more information for the user's section below: