"You never get a second chance to make a great first impression." We have heard this time and again but sometimes we forget just how much that first impression matters in our businesses. While you may be the best around, if you are not organized, using up to date technology and professional, it will show through your bid, and you will surely lose some potential clients. Your bid is your true first impression to your clients and how you present yourself matters. Appearing professional will help your customers trust you and show them that you take your work seriously. At Knowify, we offer a custom templating service complimentary with your subscription. The templates that we create are organized and easy to read, use the latest technology and will make you appear professional to your clients.

<
It used to be that you could tell a lot about a person from their handshake, now we can tell even more about someone with their "digital handshake". Ditch the paper – email your documents straight to the customer for signature. When you send a bid out through Knowify it will go straight to the customer's inbox where they can click on the link to get to our "signature portal". From there they can sign the document and send it back to you digitally – and there is your digital handshake. This system is more convenient to your client and will be more convenient to you as well. You will be saving paper (which saves you money and helps the environment) and saving time – you can start as soon as they send back their approval which could happen in just minutes!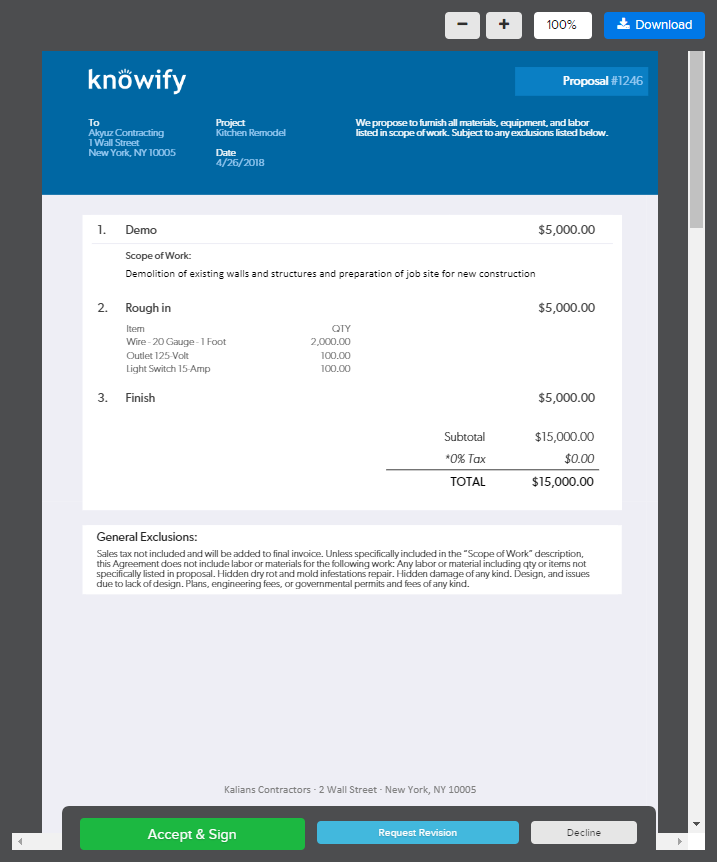 When sending any document through Knowify we will make sure you always look professional – we will keep your logo at the top, include a message in the subject line – we don't leave a detail out! You will also be able to follow up with a customized digital invoice as well so all of your communication with the customer will look well coordinated. We already know you are tech savvy because you are using Knowify – and now your customers will know too!
Thank you for reading about this week's feature. If you would like to request a customized document or have any other questions about this please email us at support@knowify.com.