Plumbing business software reimagined
All-in-one solution for your plumbing business
Everything in one place
Knowify provides plumbing business software to manage your contracts, jobs, service tickets, clients, scheduling, invoicing & billing. Use Knowify as a management system to streamline your business processes giving you more time to take on more jobs and ultimately make more money.
By your side
Our team of experts will help you get started in no time.
Best of breed
Top-rated QuickBooks-integrated product on Intuit QuickBooks' app store.
Ready to get started?
Sign up to test-drive Knowify for 14 days. Once the trial expires, you will have the power to decide what plan fits your business requirements better.
*By submitting this form, you are confirming you have read and agree to our Terms of Service and Privacy Policy
Integrated system
Manage construction projects and service work from a single platform
---
Knowify allows you to quickly and easily create service tickets and send them to your technicians in the field. And since dispatching and scheduling are integrated with Knowify's mobile app, you'll be able to exchange pictures, job notes, and more with your team on-site. Knowify supports both time & materials and fixed price service tickets and makes job tracking seamless.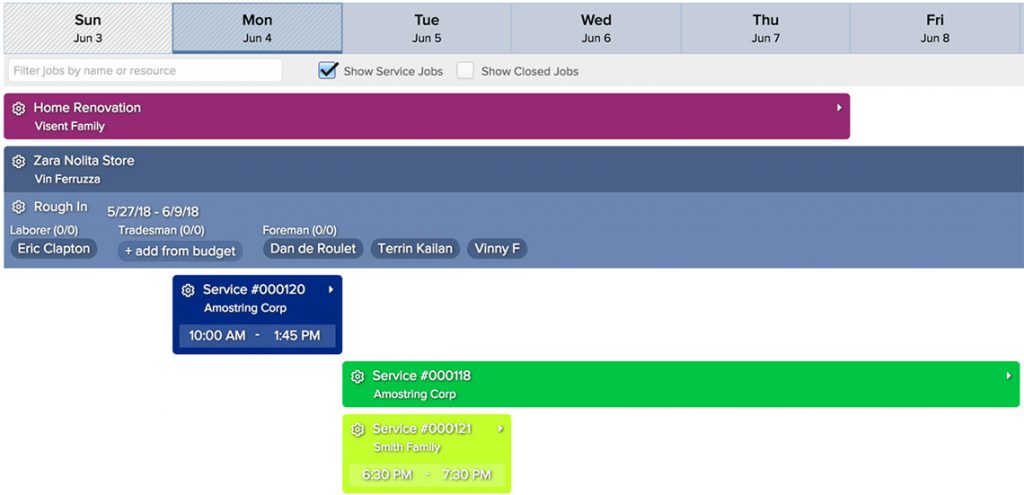 real-time analytics
Make better decisions with real-time job performance data
Knowify has built-in cloud based project management tools that can be used to estimate jobs and track their performance once they begin. Unlike any other accounting software available, our project management is fully integrated with timekeeping and purchasing, so you'll be able to see your real-time progress against your labor and materials budgets without any extra data entry. This is the business management software you've been waiting for.
Join the club
of successful contractors
"A Business Must Have!!! This program has literally changed the way that I do business. It has organized my bidding process and job tracking in a way that I did not believe possible."
President, MPC Plumbing and Heating
"Absolutely enjoy that it syncs everything into Quickbooks so it saves me a step. If I need any help customer service is always quick and knowledgeable to give me a hand. Highly recommend!"
Sara maldonado
Office Manager, Maldonado AC and Heating
Powerful bidding and estimating tools
Win more business with modern, e-signable bids
Knowify will allow you to quickly and easily prepare bids for commercial GC jobs as well as contracts for your jobs with property owners. Use Knowify's e-signature to capture your counterparty's acceptance of your terms. Once the job is running, Knowify's powerful built-in Change Order features will allow you to send out change orders for acceptance on the fly from wherever you might be.
FLEXIBLE INVOICING
Invoice faster
---
Knowify supports both standard invoicing and AIA-style (g702/703) commercial general contractor invoicing. Our AIA-style invoice management software will allow you to complete in minutes what used to take hours. However you invoice your clients, we'll make it much, much simpler, and produce attractive, professional invoices that can be submitted directly to your clients. You can also integrate with your QuickBooks accounting software.
smartphone app
Time tracker + Knowify app
Your team members can use either a computer or a mobile device to track time. Whether you would rather have each worker use our GPS-verified check in / check out features in the mobile app, have a foreman enter time for everyone from the jobsite, or keep manual timecards in the office, we'll have you covered. We also have time review built in, ensuring that the office will always get the visibility and control over timekeeping that it needs.
Advanced project management, including Gantt charts, and dependencies.
Powerful reporting, including work in progress, backlog and job costing reports.
Desktop, tablet, and mobile devices.
Purchase order and expense management from the office or the field.
Industry-leading two-way QuickBooks sync.
Powerful integrations with Zapier, PaySimple, and more.
Simple job and crew scheduling.
Personalized PDF outputs for bids and invoices.
Comprehensive in-app and phone support.
industry leading bi-directional sync
Knowify integrates seamlessly with your accounting system
Give the accounting side of your business the visibility it needs without impacting the productivity of your employees. With Knowify only your accountant or bookkeeper has to deal with finding the right account. The rest of your company can really focus on what really matters to your clients.
Request your
demo now
Find out whether Knowify can meet your business needs and start your digital journey! Over a 1-hour consultation call, our team of experts will walk you through our platform and show those features most relevant to your workflow.
Efficiency
"Catching the source of my overbudget was worth thousands of dollars."