QuiCkly create pay apps for your customers
AIA-style billing
Filling out the AIA documents G702 and G703 can be a painful process. But hey—you're a commercial GC or sub, and you want to get paid, right? So you're going to fight through the painful reconciliation required to fill out the payment application forms no matter what, even if it means hours lost to administrative process that could have been spent on more important things—like growing your business.
What if there was a software package that made filling out AIA billing forms easier than you ever thought possible? What if it could do all the reconciliations—including GC-requested change order consolidation—for you?
Well, it's here and available now. Say hi to Knowify!
#1
Create AIA-style payment applications quickly and easily
#2
Reconcile your change orders with the GC ledger
#3
Keep all your billing data in one place
Process AIA billing in minutes, not hours
Easy pay app builder
Knowify will allow you to complete your applications for payment in under a minute. All Knowify asks is a percentage of completion by line item and/or the dollar value of stored materials, and it does everything else. And with a powerful set of change order management tools (including e-signature), Knowify will handle all the reconciliations for you and ensure that you bill correctly the first time. Take back that wasted time—spend it on running a better, more profitable business—with Knowify!
Avoid dealing with paper, use aia-style billing software
Professional looking invoices
---
Once the application for payment is complete, you can email it to your GC through Knowify. You'll have access to all your client contacts and you can personalize your emails to make sure they are properly processed.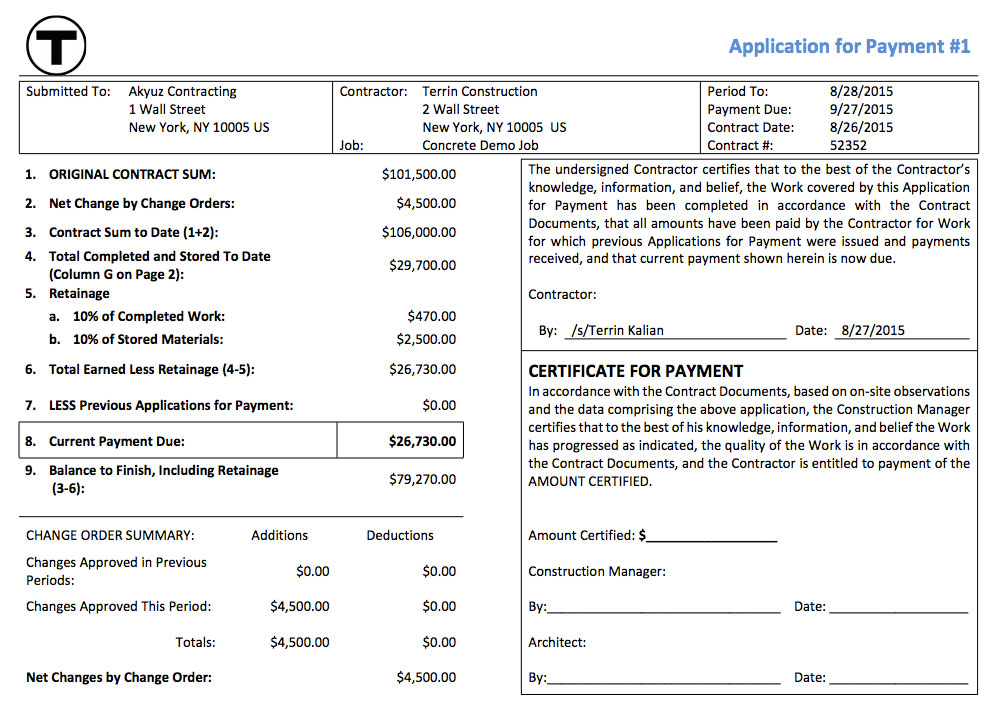 What Knowify users are saying about managing pay applications
"This feature is amazing. It's something that used to take me eight hours, but I can do it in virtually eight minutes now."
Owner, Chaney Mechanical
"Absolutely love the built in AIA billing format and the ability to email out of the application. We also use the app in the field to capture and review employee time. It's very seamless."
Kathy Mahon
Accounting Manager, Southwest Earthwork
Keep all relevant data readily accessible
Track retainage throughout the job
Knowify will keep track of the retainage throughout the job, even in cases where the percentage retained changes mid-stream. If you sync with QuickBooks, Knowify will make sure the retainage is properly accounted for by pushing double-sided journal entries as necessary. Once the job is complete, you can include the retainage in the last application for payment or invoice it separately with a regular invoice.
Experience the Knowify difference
Meet a Knowify product expert on a video screenshare, where you'll get help setting up your trial account, get your questions answered, and ensure you're set up for success with Knowify.