All your project communications in one place
Submittals and RFIs
Ensuring that certain communications with your clients and/or GCs are documented is a matter of great importance in construction. Knowify provides you with two great tools to handle your RFIs (Requests for Information) and Submittals, allowing you to compile quickly the required communication, including any necessary attachment, and send it over to your counterparty for either a response or formal acceptance. Importantly, Knowify provides a simple, secure access point (not requiring a Knowify account) for your counterparty as well, meaning that they can respond to or sign off on your communication in practically no time, and their action will be recorded instantly in your Knowify.
#1
Create and send professionally-formatted RFIs and submittals
#2
Track counterparty responses or acceptances
#3
[For GCs] Track submittals sent to you by your subcontractors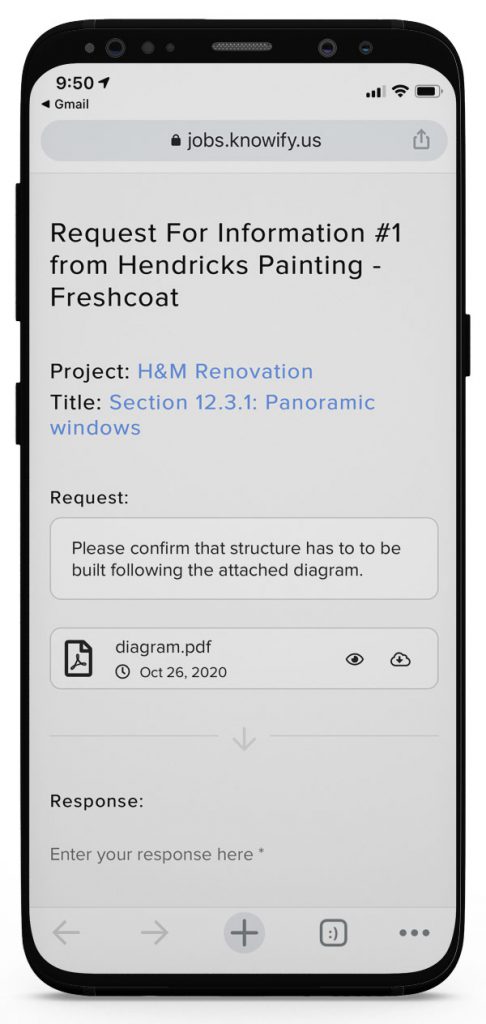 Assume nothing. Document answers and decisions
Requests for information
Maybe you are analyzing some plans, preparing to bid, and suddenly come across something that's not clear or not quite right… Or maybe (even worse!) you encounter a problem on the job site that requires a formal response and decision from your client or general contractor. RFIs are the way to resolve issues like these. Knowify's RFI tool will let you describe the issue for which you're requesting a formal response, attach documents or photos (if needed), and send it off for review by your client/GC. On their side, they will be notified via email of your pending RFI, and be given a secure link to view and respond. You will be able to track the status of each of your requests, along with any responses or feedback given.
Orchestrate all your submittal management seamlessly
Submittals
---
A straightforward process for sharing materials, data, drawing, etc., with your client and getting their sign-off. When it's time to send your client or GC something requiring a formal sign-off procedure, submittals are the way to go. Submittals can be either sent individually or in a broader package, wherein multiple items are grouped together to be signed off on all at once. Knowify makes this easy by providing you with a clean tool to compile your submittal, attach relevant documents (e.g., a material data sheet), and send it electronically to your client or GC. As with RFIs, your client will have a chance to review it by following a simple emailed link. Importantly though, they will also be able to electronically accept the submittal, providing documentation on your end that whatever you had sent along was approved.
Experience the Knowify difference
Meet a Knowify product expert on a video screenshare, where you'll get help setting up your trial account, get your questions answered, and ensure you're set up for success with Knowify.