Construction management software
A better way to run your contracting business
We know there are many moving pieces in your business. Knowify will help you keep everything in one place, organized, and under control.
---
Job costing and estimating
With Knowify's powerful job costing tools, you can plan your jobs and itemize your labor and material budgets to create comprehensive cost estimates. These estimates can be translated into a bid with a single click. Then, you can track materials, labor, subs, and equipment against budgets.
---
Bids, contracts, and service work
You can quickly create bids and contracts on your own letterhead and send them through Knowify for electronic signature. You can also quickly create service tickets and schedule technicians on work orders.
---
Time tracking and scheduling
Replace the whiteboard! Create and maintain your schedule in Knowify so that all your crew can see what needs to be worked on while they are in the field. Your field workers can also clock in and out via the mobile app, and capture expenses from wherever they might be.
Combining the best of CRM, project management and invoicing software. Say Hi! to Knowify
---
The contracting industry is demanding higher efficiency and more professionalism from all of its players. You cannot let your business fall behind. Whether you do commercial construction, residential contracting, or service work, Knowify will help you step up with a set of powerful tools.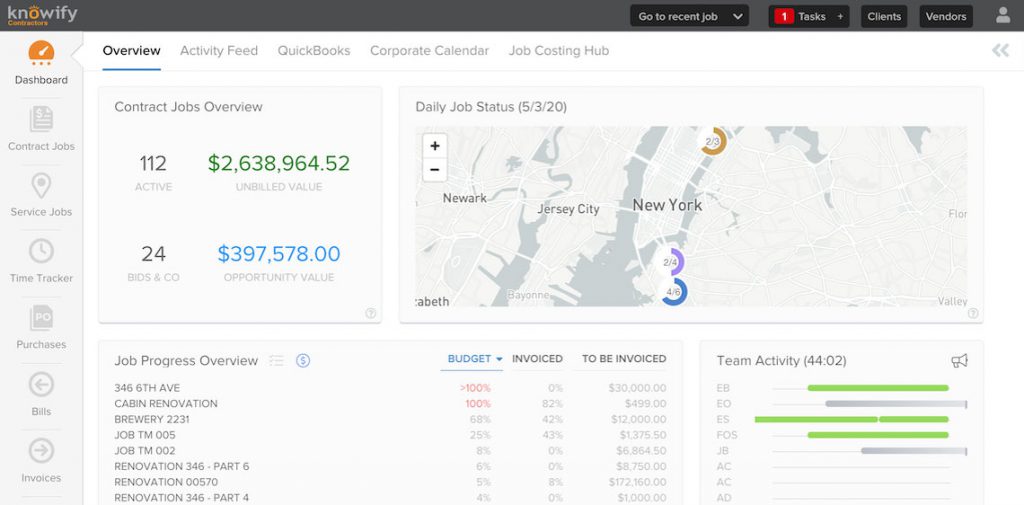 ---
---
Start your 14-day free trial
No card required. Price starts at $68/mo.
Construction software in sync
Knowify integrates seamlessly with your accounting system
Bookkeeping records are sensitive—that's why business owners tend to keep their QuickBooks closed to all but a few select users. Knowify is designed to be a distributed system, accessed and used by all of your employees. We have built-in workflows and collaboration capabilities that allow your team to work independently without you sacrificing management visibility. Put business efficiency back into the driver's seat with Knowify, without losing the important accounting / bookkeeping function provided by QuickBooks.
SMARTPHONE APP FOR FIELD WORKERS
Your business at your fingertips
Let your employees submit expenses, track time, get job information, or upload images and comments from their smartphones. With Knowify's mobile app, your organization will run smoother and paperless.
integrations / partnership
Knowify is your hub to access more services
e-Payments
Get paid faster by offering easy, familiar card or electronic payment options.
Time tracking
We've brought together three best-of-breed options.
Permitting
Knowify brings you the #1 solution for seamless, electronic permitting.
Other apps
We partner with industry-leading groups to deliver relevant business services to you.
Secure
data
Your data are protected by powerful encryption technology and backed by an IT staff with decades of experience in cybersecurity.
Accessible everywhere
Use your desk­top com­puter, lap­top or tablet to enjoy Know­ify, the most user-friendly, cross-platform expe­ri­ence in busi­ness man­age­ment software.
Available
always
Know­ify is a web plat­form avail­able 24×7 via your web browser. Whether you do your busi­ness at home or all over the world, Know­ify will be there for you.
Knowify offers the best in modern technology and business practices adapted for your small or medium sized construction business. The Knowify system gives you powerful tools to manage administrative tasks like time tracking, scheduling, purchasing, bill paying (accounts payable), contract management, change orders, invoicing (accounts receivable). Knowify takes all of the important but hard to manage and paper intensive areas of your business and puts them up into a secure, easy to use, always accessible online platform.
Knowify is designed around tightly integrated modules covering each of the major administrative areas. This integration dramatically increases efficiency and reduces error. For example: Do you have multiple outstanding time and materials or cost-plus contracts specifying different rates depending on the client and resources involved? No problem: our contracts module connects seamlessly with time tracking, purchasing, and invoices to ensure that the products and billable time covered by your contracts are billed correctly.
Sign up for Knowify today and get your first two weeks free. Starting your third week, billing will occur on a month-to-month basis. We won't lock you into a long-term contract, and you can cancel at any time. We are confident that once you've tried the power of Knowify in your business, you will see the value in running your business on our platform. Sign up today, risk-free, and let us help you know your small or medium business better.
Would you like to see it in action?
Find out whether Knowify can meet your business needs and start your digital journey! Over a 1-hour consultation call, our team of experts will walk you through our platform and show those features most relevant to your workflow.