2021 starts with a great new release of Knowify! This is the list of changes.
1. New Plan & Track header
We've changed the header of the most iconic page at Knowify, making it easier to find all the available actions as you scroll up and down.
With this change, you'll notice the following:
The header stays fixed as you scroll up and down so you don't lose sight of the overall profit picture for the job.

You can find all

relevant actions on the upper right corner of the page, always available. Please note the "…" button, which contains additional actions (including the ability to revert a plan to Budget Mode, generate reports, and set the plan as a template).
The header now can switch between actual and committed costs based on your settings.

For new plans, you'll see that the experience has changed to guide you through the first steps, whether you want to start from scratch, copy from a spreadsheet, or rely on a template. Selecting a new template also has a new and cleaner interface.
2. Submittals
Whether you have to track submittals sent to your customers, or get submittals from your subs, we have you covered!
If you are a Growth or Enterprise-tier subscriber, you can enable submittals in the Admin section, Customize tab.
3. Subcontractor management
We are extending our subcontractor management capabilities by adding the ability to track multiple line items per subcontractor through our POs. Now, add as many lines of work as required in the original subcontract or in subsequent change orders, and have everything properly tracked with the associated PO.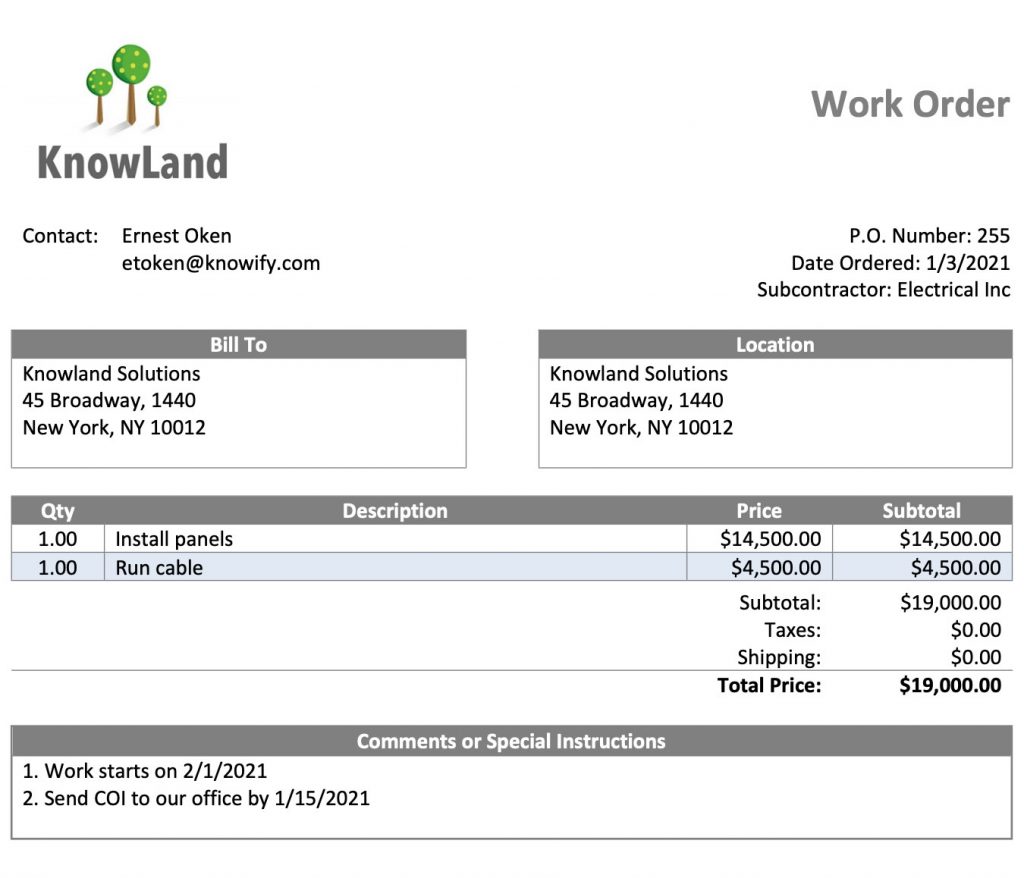 4. File uploads
In our document management section, we are extending the ability to upload larger files. Now Enterprise accounts can upload files of up to 100Mb.
5. Overtime
We have enhanced the logic in our time tracking system to support edge cases around weekly and daily overtime. Read more about the logic around overtime here.
6. Job location
We have improved the interface to find an address on a map for both contract and service jobs. This is especially convenient for job locations that do not have an address yet or when our address lookup service cannot find the exact GPS location for the job.
7. QuickBooks integration
There are several improvements regarding our sync:
Improved sync of classes for service jobs, both at the invoice and line item level.
Improved logic to match new clients in Knowify with existing customers in QuickBooks to prevent issues with duplicate names.
Classes disabled in QuickBooks will be disabled in Knowify in real-time.
8. Enhanced RFI experience
We have added the ability to send a reminder for an RFI.
The RFI portal will remain accessible after the recipient of the RFI has provided an answer. The portal will display all the RFI information in read-only mode.
We have updated the default output, which includes the response to the RFI when provided.
9. Vendor bills
You can find a new report in Manage Bills section with the ability to export bills from certain vendors or for a certain period of time.
10. Additional improvements
In purchases, copying items from a spreadsheet will preserve the job allocation when the process was started off the project plan.
In service jobs, sending a notification to the crew will include the hour of the appointment.
We've unified the source of all our analytics and reports to rely on our new reporting API. Now you shouldn't see discrepancies in different sections of Knowify.
There are several recent improvements in our smartphone app, especially for Android 10 devices that have been struggling since our previous release.
Purchase orders can be downloaded as MS Word documents now.
We've improved the management of line items in fixed priced jobs and schedule of values in jobs with AIA-style invoicing to prevent issues around merging and sorting.