Many books have been written about data-driven decision making, why it matters, and how the best business operators use it to gain a competitive edge. For many small business owners, 'data-driven decision making' sounds like something dreamed up at MIT and only relevant to Fortune 500 companies. Not so. Have you ever wondered which jobs make you the most money, really (all-in)? Or which of your crews is the highest-performing? Or which lines of work you consistently overbid or underbid? If so, you're already on your way. The task now is to gather the data so you can run the analyses that answer those questions.
There's just one problem: historically, it's been a pain in the butt to gather and organize data. That's one of the reasons why we built Knowify.
Gathering data
Gathering data manually, in addition to being tedious, can be a hotbed for human error. Realistically, no contracting business has the time to dedicate to compiling old spreadsheets, financial analyses, and things like old timecards (to clarify ST vs. OT) to produce a single large, reconciled data set. Yikes. But here's the funny thing: you've already entered all of those data somewhere—you shouldn't HAVE to combine those datasets to run your analyses; somehow, somewhere, something should be able to take what you've already entered and generate those powerful analyses for you, right?
Right.
There's a reason we designed Knowify from the ground up to encompass most aspects of your back-office work. We knew that by doing so, we would ultimately be able to give you insights into your business you never thought possible. By syncing Knowify with QuickBooks Online, you can gather almost all of your business data with the click of a button and say goodbye to countless hours of crunching numbers into spreadsheets. As an added benefit, having all your data in one centralized location makes it easily accessible for you and your advisors.
Analysis is key
Data is basically useless until you analyze it. In addition to easily compiling your data for you, Knowify can help you interpret it. We have a full-time data scientist (with a PhD!) on staff who works with our business team to create high-value reports for your business. As a straightforward example, check out Knowify's state-of-the-art dashboard feature, which offers real-time views on many aspects of your business. We also offer incredible advanced reporting to give you the most detailed information possible about your business. Our sales reports display all sales and leads/bids for a certain time frame, while our backlog reports provide valuable information on the contract value left in your active jobs along with budget progress. That same report can be used at the end of the job to see how it performed; sort the report by sales leader (you can also use this to  enter a foreman) and calculate an average margin and, voila!, you suddenly know who among your sales guys (or foremen) is driving the profitability in your business. That's important information to know—we would argue just as important as overall sales volumes!
Knowify also provides data on the performance of your crews, a crucial tool for determining your business's productivity. Bring your data analytics to the job site in order to build a perfect team for your business. Your crew will be working like a well-oiled machine in no time.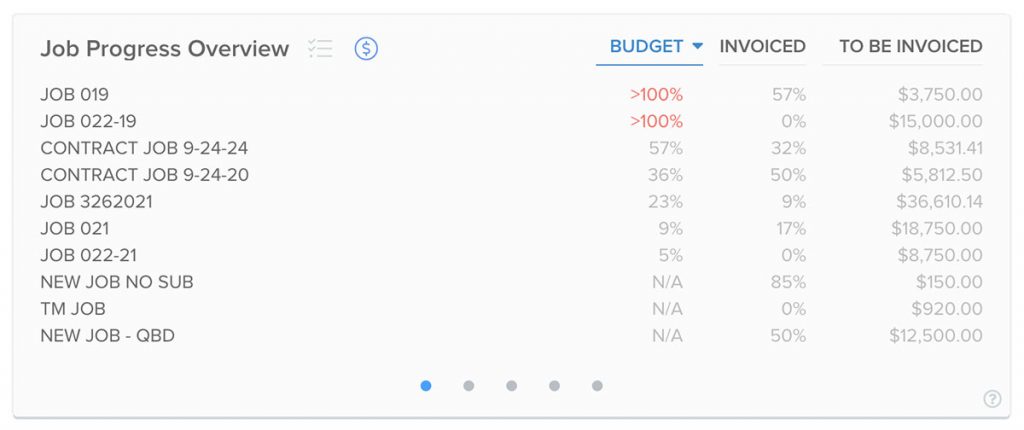 How much data is too much?
Data can easily become overwhelming and cumbersome, so it's important to focus on the numbers that really matter. It's important to draw the line somewhere, but where, exactly? Well, it depends on your needs. If your crew is working productively and efficiently, you might want to determine how much you're spending on each project and how much you need to make, and end the data-gathering there. If your primary concern is finding out how you can improve your team's efficiency, you might also want to use Knowify to analyze their work.
The concept of data-driven decision-making might seem daunting at first, but in reality, it's a powerful method to make your business stronger, more profitable, and more competitive. The more you KNOW your business, the easier it will be for you to GROW your business!