What is a dashboard? #
Your dashboard is the place you go in a software like Knowify to get a consolidated view across many of the essential data items tracked by the software. Typically dashboards are about viewing data only; if you want to perform an action, the dashboard is likely to send you to another place in the software. Well-designed dashboards can be very valuable for helping you to see your entire business at a glance.
Also known as: Command center
What type of information is displayed in a dashboard? #
A business owner goes to their dashboard and, at a glance, is able to see the total value of bids she/he has outstanding, the number of active jobs, outstanding receivables and payables, and a list of priority tasks for the day. To the extent that she/he wants more information on any of these, she/he just clicks a link that takes her/him into the relevant module or job.
The Knowify dashboard #
Knowify has a powerful dashboard designed by a PhD data scientist! We put the most actionable, important information right at your fingertips so you can get the information you need to run your business better.
As North star, Knowify will display the pipeline of won jobs and additional job value you might be able to add to that pipeline if you win your outstanding bids. You might already know your win rate when it comes to bidding, so having a great understanding of what is left in the pipeline and how much you have been bidding will help you keep your business healthier.
Other relevant cards that offer reporting on your job data are:
Daily job status that shows a map highlighting jobs that have had activity in the current day.
Team activity that shows which users are currently checked in and out and allows you to send notifications to users.
Job progress overview that shows different open projects as well as the amount spent from the budget (calculated as cost vs. budget) and compares the percent to the amount of the contract invoiced to date.

Certain subscription plans are able to customize the dashboard experience, adding additional cards like change orders, subcontractors, service jobs, or sales cycle.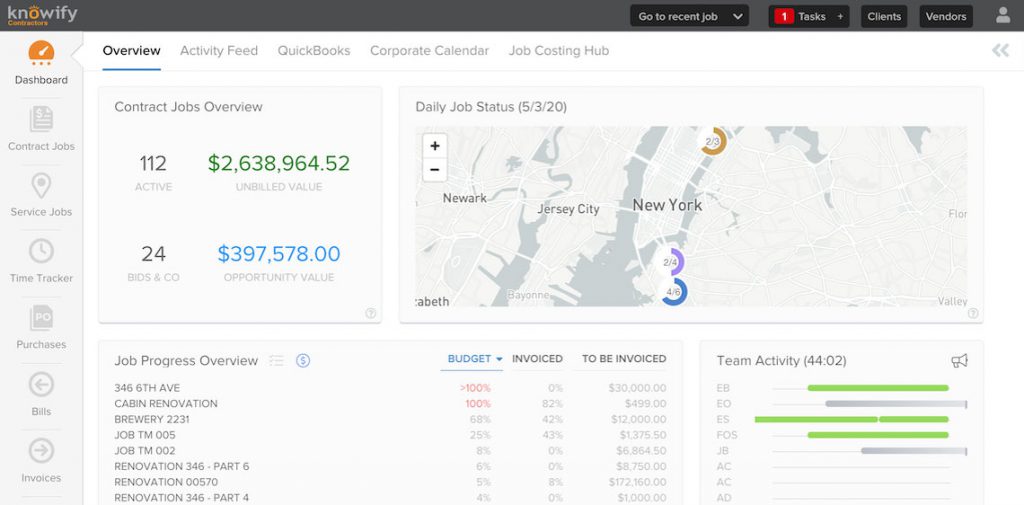 See how it works: